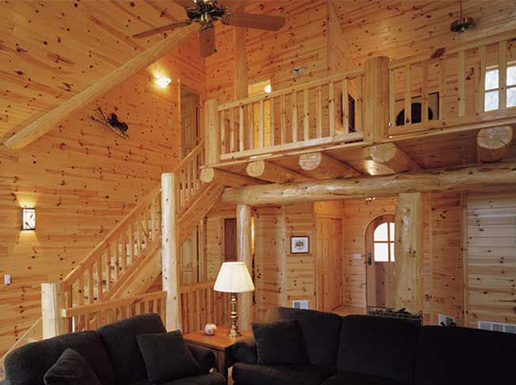 Knotty Pine Paneling
Tongue and groove with end-matched design for an easy installation with little or no waste
Knotty Pine Paneling is available in widths of 4″, 5″, 6″, & 8″ – 3/4″ Thickness
In-Stock unfinished or prefinished clear in all four sizes.
Color Stain choices in Min-wax or Sherwin Williams stains.
White Wash Pre-stained color with Clear Coat top finish always "in-stock"
Cedar Paneling
Made from Northern White Cedar and offers the same tongue-and-groove system as our pine
On hand in 4″, 5″, and 6″ widths – 3/4″ Thickness
Options of unfinished in all sizes or prefinished in our 6″ size only
Use in high moisture areas like bathrooms and porches
Interior or exterior application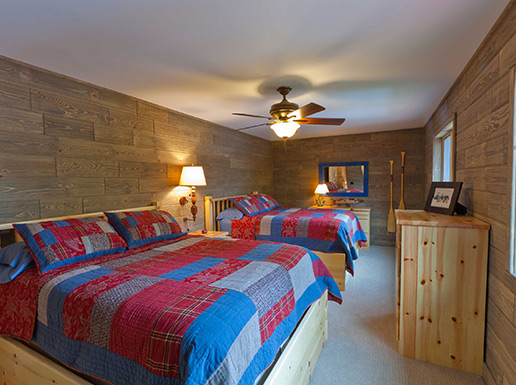 Barnwood Paneling
Manufactured in Pine or Cedar depending on your preference
Available in 6″ and 8″ widths. Cedar in 6″ size only. 3/4″ Thickness
"In-stock" in our  Weathered Gray, Weathered White,
Weathered Red Patina's
….as well as our Cape Cod & Canyon Ridge collections
Many endless color options of Barnwood Paneling in addition to our "in-stock" 
Weathered Red, Weathered White, Canyon Ridge and Cape Cod Collections.
Advantages of Knotty Pine Paneling?
The unique end-match design allows for a fast and easy installation of wood paneling without
having to cut each board to fall on a stud.
It's tongue-n-groove lock-tite profile assures proper fit of each plank. Our end-match system saves
20-30% in material and labor costs.
Packaged and shipped direct to your home, business, cottage or job site.
The quality of our knotty pine and cedar paneling products are un-matched in the lumber industry
"I have just finished installing your prefinished knotty pine paneling on the ceiling and one wall of a room in my Florida home. In my 60 years of working with wood in my work, as a hobby and as a confirmed DIYer, I have never had the pleasure to work with such beautiful material. The boards were all straight and flat, the knots were tight and not too large, and the finish was perfect. My wife and I are thrilled with the new look of our room and have told several people about your product. Thank you for being exactly as advertised and thank you for your help with our order."
"I wanted to let you know that my project is complete and I'm very pleased with the end result. I was hesitant to order the material sight unseen from Michigan but it worked beautifully. I couldn't convince myself that the waste would be as minimal as advertised so I do have some left over. Not a problem as I have people lining up to take it off my hands. My installer said the quality of the material was superior to anything he had used. Thanks again for your assistance."
We received the Knotty Pine Paneling today, and started installing it on our ceiling. We are very happy and pleased with it! My fiancé has been a builder for 25+ years and he was very happy with what we received! We were initially a little weary of ordering wood products over the internet from such a far distance–but I can say I'm glad we did and I will surely recommend your website to our friends. Thanks again!"
"I ordered an entire home's interior tongue and groove and doors/trim prefinished. They shipped to Gatlinburg Tennessee in many crates. It was very well packed and the material was excellent. Easy to install and I have recommended them and will use them again."
"Just wanted to thank your company for excellent product & excellent service .   
Everything is perfect from ordering to delivery. This was my second experience with your company & total satisfaction both times. Very rare to find such high standards these days will highly recommend you  Thanks again!"